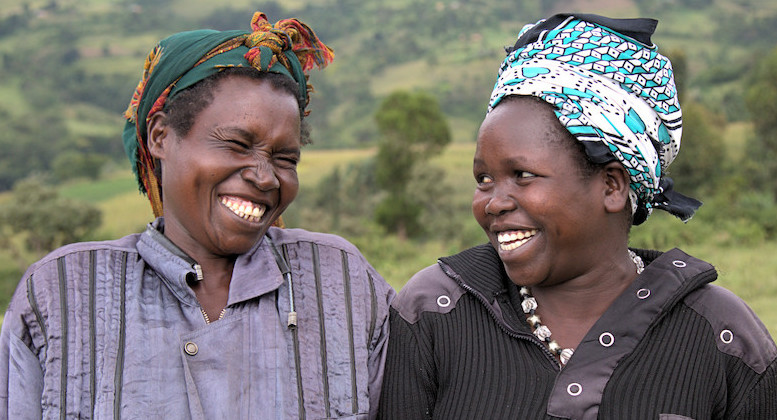 A stay at "The Little Farm on the Savannah" is for women who seek to escape marriages with violent and oppressive husbands. The stay should first and foremost help the women to get out of marriage without the danger and fear of violence and other reprisals from the husbands during and after a separation or a divorce. Next, the women are given life stability and tranquility to prepare for a new life, as well as being given education and assistance for financial self-sufficiency for themselves and their children, so that they can leave The Little Farm on the Savannah financially independent of a husband. The specific goal of the women's center is that, after a 6-month stay, the women should be able to start a new life with an income of 15,000 Kenyan shillings (USD 150) per month for themselves, plus 7,500 Kenyan shillings (USD 75) per child. This goal of income level is set by a measure of modest independent living that is also sufficient for the woman to pay for the children's education. Of course, we hope to achieve this goal for everyone, but we have set the project's success goal to be, tha 60% of all residents who have had a six-month stay, has achieved this goal within 3 months after the end of the stay.
The following is a detailed description of the contents of a 6 month stay.
Security
Peace of mind about reprisals
Regardless of country and culture, it is common for women living in a domestic violence relationship to feel great fear of reprisals if they try to leave the violent husband. This fear may very well, due to a very male-dominated culture, be stronger and more justified in Kenya than in other countries.
In order to minimize reprisal fear to a minimum, it is first and foremost sought to ensure that women's husbands have minimal opportunity to find out where the women are staying. To ensure this, anonymity is offered so that only senior executives know the identity of the women and where they come from.
However, anonymity does not give absolute certainty that husbands can't find out where the women are staying. An additional security against physical reprisals is the introduction of access control and intrusion security on the farm.
Access control and intrusion security are introduced by the introduction of 24-hour manned security guard, as well as a security team. The security team consists of trained employees and volunteers who live on the farm. The security team counts 3 people who have 24 hours call duty. Thus, any undesirable intruders will be faced by at least four trained security guards. The goal is for all security guards to undergo a basic training in self-defense and in non-violent pacification of unwanted intruders.
General security
In addition to ensuring high reprisal security, a 24-hour manned guard and a security team provide the highest possible general security in relation to assault, burglary, theft and other general security conditions when residents stay within the residence fence. In relation to ensuring safety outside the residence, residents will move in groups to the greatest extent possible.
Security outside the yard and subsequent stay
In the long term, the goal is to be able to offer women a personal security solution that also covers outside the residence and after the stay. The Danish developed Fynoti security solution is among the considered solutions.
Life stability and tranquility to prepare for a new life
Life stability and tranquility to prepare for a new life consist primarily of women not having to think about finances during their stay. Housing, food, clothing and money to pay for the children's schooling are all included in the stay payment.
Housing, food and clothing
The women are provided with a traditional "mud and iron sheet" housing where they will have their private accommodation, along with their children. The first residence of 12 planned homes is ready. The homes are built in a "Community infrastructure". There is a shared cooking room and a newly constructed shared toilet. Construction of a bathroom with shower and a toddler and changing room, is incomplete.
Healthy cooking is part of the educational program. Food ingredients are included in the standard monthly fee.
Clothes are also included in the stay fee. For children, school uniform is also included.
Children's education
Payment for children's schooling in the local public school, approx. 1 km from the place of stay is included in the standard monthly fee. Transport for schooling will be on foot to the local public school with two adults.
If children are to go to a private school, it requires additional payment.
Babysitting
Childcare for children who are not yet of school age is included in the stay payment. The women are involved as part of the education program.

Transport
Transport for food shopping and other activities in the local area can be on foot or by car or other means of transport. Transportation for personal purposes is paid for by the residents themselves.
Training and financial self-help
The six-months' adult education program is a weekly program with 36 scheduled lesson hours of 45 minutes duration, as well as unscheduled "Fridays for Future". The education program consists of the following modules
English (4 lessons per week)
Computer and phone apps (4 lessons per week)
Healthy cooking and living (4 lessons a week)
"Skills classes" are training or coaching for self-education in various crafts, etc. (16 lessons per week)
"Individual empowerment coaching" are lessons where residents individually or in groups receive preparation coaching for jobs and other ways to reach income goals after the stay. (8 lessons per week)
"Fridays for future". Fridays are not scheduled but are devoted to learning about sustainable living and micro-entrepreneurial education. Typically, various events will be held on Fridays, with residents (both women and children) showcasing their creations and demonstrating their skills and abilities.
There will be level differences of the individual participants in the educational program, and there will be a high degree of individual education. The challenge of being able to offer a broad different level education competence is covered in part by the local teaching staff, but also through involving visiting voluteers (and tourists) as well as introducing an international virtual teachers network. For example, the Teacher Network includes a teacher residing in Denmark who provides education via Skype.
Help to achieve financial self-sufficiency
The primary element to help women to achieve financial self-sufficiency is, in addition to education, help with the search and finding of jobs. Additionally to obtain supplemental or stable sufficient income as full or part-time self-employed entrepreneurs. The staff also help to seek and apply for micro-loans or find other financing for their own independent micro-businesses, as well as to find both local and global partners (For example, importers and dealers in Denmark of handmade jewelry or Danish exporters of products or services sold in Kenya ). In time, it is expected that The Little Farm on the Savannah as a project, will yield a financial return, so the project itself can grant micro-loans or in another financing way, can help create jobs and secure and lasting financial independent self-sufficiency for the women.